The GenABEL Project paper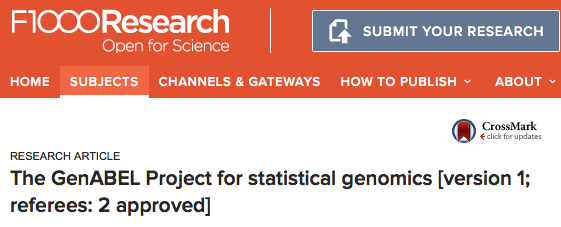 Recently we published an overview paper of the GenABEL Project [1] on F1000Research. The GenABEL Project is a framework for collaborative, robust, transparent, open-source based development of statistical genomics methodology that PolyOmica sponsors.
One of the reasons for publishing this overview paper was that we felt the need for a single, easy-to-point-to reference for the work in the GenABEL project. Several of the tools in the GenABEL Suite have their own paper and can thus be cited independently, but not all. Moreover, since many (if not all) tools have received updates since the original papers were published, we thought having an up-to-date list would be helpful and might even draw new users to our community.
Another reason for publishing this paper was that we wanted to highlight the work done aside of package development: how we integrate the whole process from the development of new statistical methodology to the implementation in software, followed by user support on the forum. We also wanted to show that the Project truly is a community project as evidenced by contributions from people outside of the 'core team'. These contributions can be big or small and range from new packages to bug reports and sometimes bug fixes (yes, we like those a lot!).
Now that the paper has received two favourable reviews, it has been indexed by Scopus, PubMed and the like (or will be soon). So, if you use one of the various tools in the GenABEL suite, please cite this overview paper (DOI: 10.12688/f1000research.8733.1). Of course, if you use a tool that has its own paper, feel free to cite that (too).
References
1.
Karssen LC, van Duijn CM, Aulchenko YS. The GenABEL Project for statistical genomics. F1000Research. F1000 Research, Ltd.; 2016. p. 914. doi:
10.12688/f1000research.8733.1